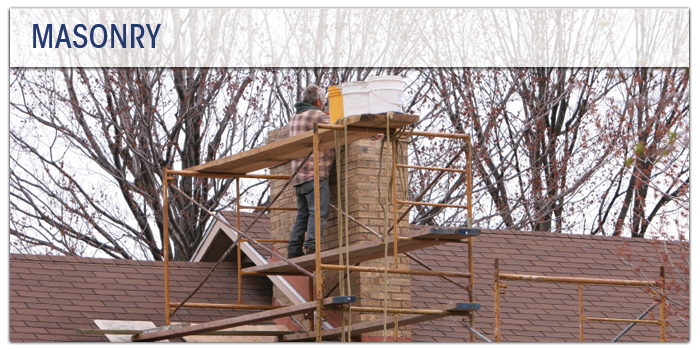 Is the building of structures from individual units laid in and bound together by mortar.
Masonry is generally a highly durable form of construction.
However, the materials used, the quality of the mortar and workmanship, and the pattern in which the units are assembled can significantly affect the durability of the overall masonry construction.
The common material's used in masonry construction:

brick
stone
marble
granite
travertine
limestone
concrete block
glass block
stucco
tile
Applications:
Masonry is commonly used for the walls of buildings, retaining walls and monuments.
Brick and concrete block are the most common types of masonry used.
Concrete blocks, especially those with hollow cores, offer various possibilities in masonry construction.
Advantages:
The use of materials such as brick and stone can increase the thermal mass of a building.
Brick typically will not require painting and so can provide a structure with reduced life-cycle costs.
Masonry is very heat resistant and thus provides good fire protection.
Masonry walls are more resistant to projectiles, such as debris from high winds.
Masonry structures built in compression preferably with lime mortar can have a useful life of more than 500 years as compared to 30 to 100 for structures of steel or reinforced concrete.
Disadvantages:
Extreme weather causes degradation of masonry wall surfaces due to frost damage.

This type of damage is common with certain types of brick, though rare with concrete blocks.

Masonry tends to be heavy and must be built upon a strong foundation usually reinforced concrete to avoid settling and cracking.
R. Graham Construction has a skilled mason on staff with the ability to repair (tuck-pointing), replace (re-build), or build to your specific needs.
Success Stories »
Just a note to tell you how pleased I am with the new roof you put on my home last week. I had two other estimates, one company said they could do it in about a week, the other said it would take two weeks. I was so happy that your crew got it all done in one day! Your boys came back and cleaned everything up, they even swept my driveway. You have a great crew! Thank you Rick for a good job!

Sincerely, C.M.W (Owosso, MI)

"I Want to express our appreciation for the quality work you performed on our church. You were efficient and prompt, you did not go over budget, and you completed the job on schedule. You executed the job with precision and quality craftsmanship and for this we are quite thankful. May God continue to richly bless you."

Pastor Jack Barnett
The Bibleway

"Just wanted to let you know that the crew who installed our roof was terrific. They were very professional and had an old school work ethic that is very rare today. Hold on to that team. Everything with your company was top notch and we will recommend your company to our family and friends. Thanks for everything."

Cathy Burns