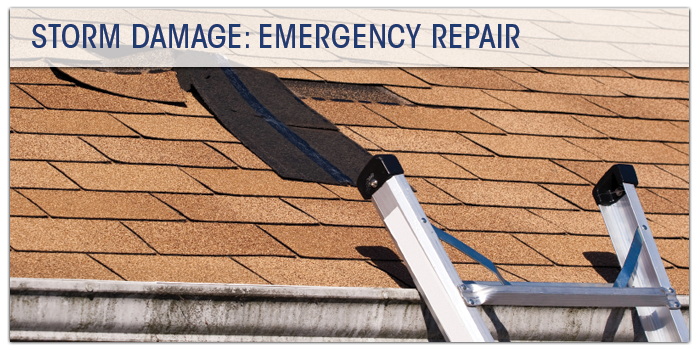 If you've suffered roof damage from wind, hail, ice, blizzard or a storm, you need to act quickly to protect your home from further damage. You should have your roof inspected by a professional roofing company as soon as possible, as well as taking temporary repair measures to prevent further damage.
Storm Damage: How we can help...
Michigan's weather can be unpredictable throughout the entire year. During the year Michigan residents' may experience; freezing weather with ice storms and blizzards in the winter and heat advisories with wind storms and flooding rains in the summer. All of these conditions can create significant amounts of property damage for homeowners and business owners alike.
R. Graham Construction has been providing emergency services to residents and business owners throughout our more than 30 years in business. We have radio dispatched crews on-call for when you need help the most. If your property has damage from a fallen tree or a leak in your living room or office from ice build-up during freezing temperatures, R. Graham is ready to assist you in all your emergency needs. We are prompt, convenient and courteous during your time of crisis.
R. Graham Construction can provide you with a number of services to help property owners following a major storm. Removal of debris and temporary roof repairs and roof tarps will help prevent further water damage to your home. Temporary emergency repairs may also include, but not limited to, covering areas where siding has blown off, tree removal, and covering blown out windows. R. Graham Construction is a licensed building contractor who can make these temporary repairs for you to protect your investment. Our team is highly skilled at repairing property damages caused by any type of property disaster, we promise to be on site swiftly to begin repairing your wind damage or storm damage.
When you have an emergency at your home or business, remember to think R. GRAHAM for emergency repair services.
Success Stories »
Just a note to tell you how pleased I am with the new roof you put on my home last week. I had two other estimates, one company said they could do it in about a week, the other said it would take two weeks. I was so happy that your crew got it all done in one day! Your boys came back and cleaned everything up, they even swept my driveway. You have a great crew! Thank you Rick for a good job!

Sincerely, C.M.W (Owosso, MI)

"I Want to express our appreciation for the quality work you performed on our church. You were efficient and prompt, you did not go over budget, and you completed the job on schedule. You executed the job with precision and quality craftsmanship and for this we are quite thankful. May God continue to richly bless you."

Pastor Jack Barnett
The Bibleway

"Just wanted to let you know that the crew who installed our roof was terrific. They were very professional and had an old school work ethic that is very rare today. Hold on to that team. Everything with your company was top notch and we will recommend your company to our family and friends. Thanks for everything."

Cathy Burns