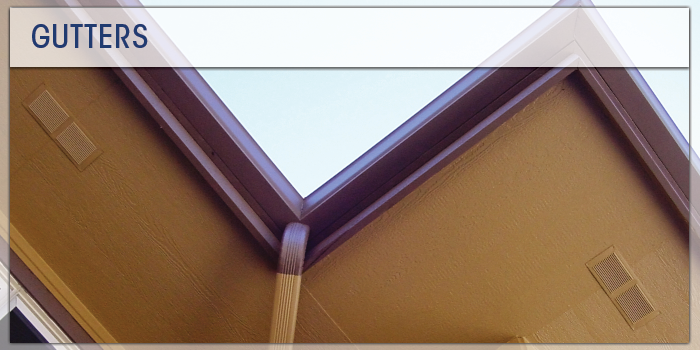 A gutter, also known as eaves trough, eaves channel, or guttering, is a narrow channel, or trough, forming the part of a roof system which collects and diverts rainwater shed by the roof. Water collected by the gutter is fed, typically through a downspout, from the roof edge to the base of the building where it is either discharged or collected. Gutters can be equipped with gutter screens, louvers or solid hoods to allow water from the roof to flow through, while reducing passage of roof debris into the gutter.
Types:
Box gutter:

Is a deep gutter which is masked within the structure of the roof.
These are typically placed on flat roofs and commercial buildings.

Seamless gutter:

Continuous gutters, in long individual lengths suitable for most roof edge conditions.
This allows for reduced joints along the length of the gutter.
They are available in various shapes, sizes, and finishes.
Benefits:
The main purpose of a gutter is to protect a building's foundation by channeling water away from its base.
Reduce erosion.
Prevent leaks in basements and crawlspaces.
Protect painted surfaces by reducing exposure to water .
Provide a means to collect rainwater for later use.
Preventative Measures:
Clogged gutters, due to fallen debris, can cause water leakage into the house as the water backs up.
Clogged gutters can also lead to stagnant water build up which allows mosquitoes to breed and also allow grasses and weeds to grow in the gutter.
We recommend annual cleaning of your gutter system to prevent any of these possible situations.
R. Graham Construction will be happy to come out to your home or business for a FREE ESTIMATE on general gutter maintenance, gutter guards, repair, replacement, or a full installation!
Success Stories »
Just a note to tell you how pleased I am with the new roof you put on my home last week. I had two other estimates, one company said they could do it in about a week, the other said it would take two weeks. I was so happy that your crew got it all done in one day! Your boys came back and cleaned everything up, they even swept my driveway. You have a great crew! Thank you Rick for a good job!

Sincerely, C.M.W (Owosso, MI)

"I Want to express our appreciation for the quality work you performed on our church. You were efficient and prompt, you did not go over budget, and you completed the job on schedule. You executed the job with precision and quality craftsmanship and for this we are quite thankful. May God continue to richly bless you."

Pastor Jack Barnett
The Bibleway

"Just wanted to let you know that the crew who installed our roof was terrific. They were very professional and had an old school work ethic that is very rare today. Hold on to that team. Everything with your company was top notch and we will recommend your company to our family and friends. Thanks for everything."

Cathy Burns